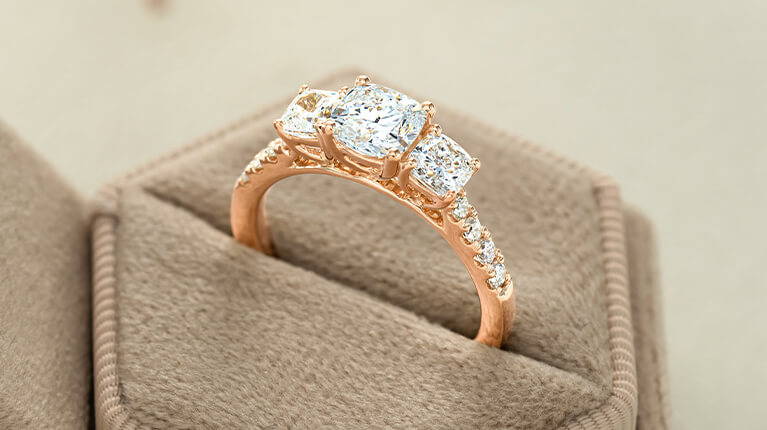 Engagement Rings, A Symbol of Love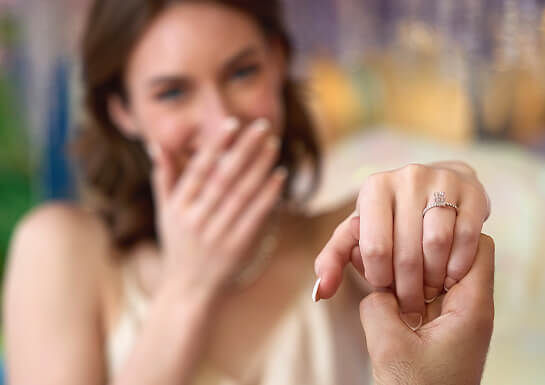 Whether you choose a traditional engagement ring or a modern one, it is a perfect representation of the love that you share with your significant other. It will last a lifetime as a reminder of your commitment to one another.
Typically worn on the left finger, symbolizing its direct connection with the heart, the diamond engagement ring is the reflection of an unending, infinite love which transcends this life. It shows how everything is completely connected and how two people come together in a beautiful way. At Grown Brilliance, your engagement ring can be customized according to your likes and requirements or you can choose from over thousands of various combinations of center diamond shapes, carat weights, rings styles and metal color.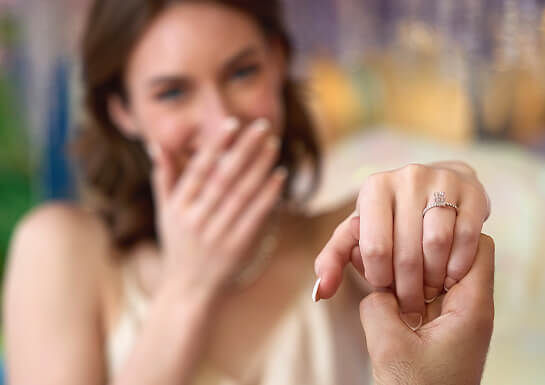 If you're looking to get engaged soon, you probably know the pressure that picking out the perfect engagement ring has on both partners.
So, how can you pick the perfect engagement ring?
Follow these tips:
Know your budget
Figure out how much you are ready to spend on a beautiful engagement ring, and on your partner. It doesn't have to be a huge diamond, it just has to be the perfect one for them.
Do your research
Before going to a jeweler, do some research on your own so you can know what you are looking for. Understand the 4Cs of carat, clarity, color, and cut. It will equip you with all the knowledge before you actually walk into the store to buy your engagement ring.
Prioritize
It is always best to prioritize your finances. Ask yourself a few questions, such as, "Would I increase the budget due to a particular characteristic of a ring?", or "Can I alter the timeline of another financial goal?" This will help you make a smart buying decision.
Learn about the 4Cs of Diamonds
If you are looking to purchase a piece of diamond jewelry, either natural or lab grown, you must remember that the quality of a diamond is actually determined by its 4Cs, including Cut, Clarity, Color, and Carat.
Without finding out the right balance between these 4Cs, you might end up overpaying for a few of these characteristics while failing to spend enough on others. Following the given recommendations, you will be able to find the perfect balance of value and quality in your purchase.
Click Here to learn more about the 4Cs
Shopping for a Diamond by Shape
Diamond shape means the physical form of a diamond. It is one of the very first attributes which couples consider while shopping for a diamond engagement ring. At Grown Brilliance, we offer a variety of diamond shapes. You can choose the shape that best reflects your relationship and individual style.
How to Choose the Perfect Setting for your Engagement Ring


Choosing a setting for your diamond engagement ring is something that you will likely devote most of your time to, given the multitude of options that are available. In order to select a ring setting, you'll need to choose a style, ring size, metal type, and metal color.
The best way to choose a ring setting is to first find the right style. Here, finding an online jeweler, like Grown Brilliance, could prove to be a great decision as you get to see a wide variety of ring styles. We have a multitude of ring styles available. Please click here to learn more about the various style options for an engagement ring.
To select the perfect ring, consider what exactly tends to fit your lifestyle and personality. Your budget, along with your personal style and everyday activities, are all key considerations which will guide your selection of a ring setting.
To learn more about choosing the best metal type and color, Click Here.
Finding Your Partner's Ring Size
Our experts at Grown Brilliance are often asked how they can find the right ring size for their partner without letting them know. Here are a few tricks and tips to use!
Be subtle
If you wish to keep your proposal a surprise, but still want to find the right ring size, you can ask your significant other in a smooth way. You can pretend to be buying a ring for your niece/mother/sister/aunt or anyone else. Casually ask for her ring size for reference!
Ask Their friends
This is the safest way to find out your partner's right ring size. Friends know the best and have the perfect insight! Even if the friend doesn't know directly, he or she can be the one to ask your partner.
Borrow one of their rings
Snag one of their rings for a day! Make sure that you take one which your significant other wears on the same finger.
Trace the Ring on Paper
Place their ring on a piece of paper and trace a circle on the inside and outside of the ring. Repeat the process to ensure that your ring traces look consistent. It's easy to understand the diameter of their ring from your drawing!
Use Our Printable Ring Sizer
If you're shopping together, then it doesn't have to be a big secret! You can download our printable ring sizer to find the right size. There are two options, one for if you have a ring that fits, and one if you don't. Download the printable sizer here.
How to Care for your Engagement Ring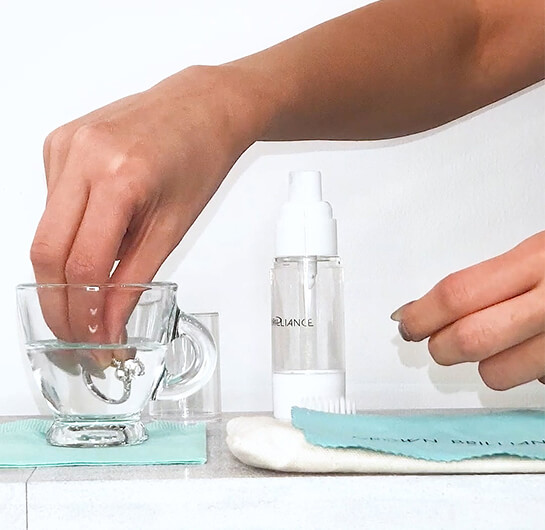 It goes without saying that your engagement ring is an important piece of jewelry, and you never want anything to happen to it. Proper care of your ring is extremely important since it's something that will stay with you for a lifetime. Here are a few recommendations to help you keep your engagement ring as good as new.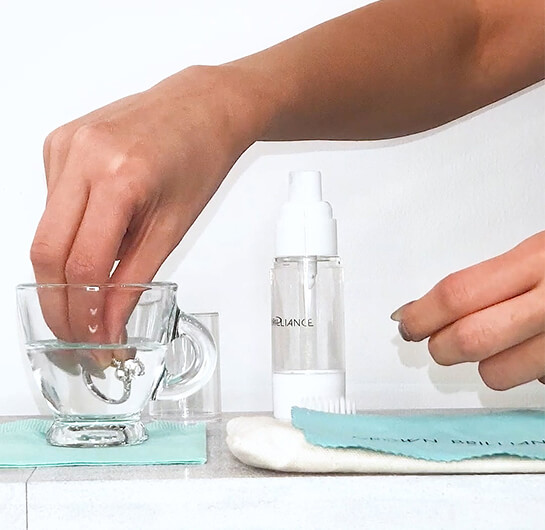 Get Regular Check-Ups
You should get your ring professionally checked from time to time. Wearing your ring every day can cause stones to get loose or for the metal to bend. It is important that the prongs are securely holding the diamond together to ensure that the precious diamonds don't fall out.
Ring Cleansing
You can clean your lab grown diamond jewelry the same way that you do most of your fine jewelry. One simple method is to use a little dish soap and warm water and gently scrub your jewelry with a soft cloth or soft bristle tooth brush. Rinse it clean and then let it dry on a soft cloth. Another options is to use an ultrasonic jewelry cleaner. If you need more professional cleaning or repairs, please contact us.
Refresh Metal Setting
Over time, the metal on your ring can get tarnished due to moisture and oxygen coming into contact with it. If this happens you can have the ring professionally re-polished. If this is something you would like to do, please contact us.
Remove Ring During Heavy Activities
Doing heavy activities such as gardening, moving furniture, lifting weights, and manual labor could cause your engagement ring to get damaged. It is always best to remove your ring before you do such activities.
FAQs - Frequently Asked Questions
The shape of your diamond is not just its physical form but a representation of your individual personality and style. Here at Grown Brilliance, we have a multitude of shapes and styles for you to choose from, so you can find the one that is most uniquely you.
Instead of framing the center stone, the hidden halo setting sits below it and with the function of being the diamond's base in a "hidden" way. The center stone is brighter from above than from any other angle because of the small stones visible. Hidden halo can be done in different shapes and styles, for example a round hidden halo, a drape hidden halo, which is a more ornate, soft and flowy design, a double hidden halo, or, one of the most traditional hidden halo rings, a halo on the basket, which is the part of the ring that holds the center stone.
There are a variety of settings available to personalize the solitaire style. For example the prong setting holds the diamond in place by small "claws," and is most popular when stylized with either 4 or 6 prongs. The 6 prong setting, also known as the Tiffany Setting, has 6 minimalistic "claws" that hold the diamond above the band, whereas the 4 prong setting, also known as the Classic Setting, offers a more brilliant display of the center diamond by showing it off with only 4 prongs to hold it in place. The double prong features a set of prongs where the claws wrap around offering the illusion that the claws holding the diamond are slimmer. Another type of setting is the bezel setting which displays the center diamond with a single ring of metal around its girdle. Whatever setting you choose should be a reflection of your own personal choice and style that represents both you and your love.
Every piece of jewelry has a metal component that accentuates the wonderful contrast between the piece, the gems it holds, and your skin. Some metals look better on certain skin tones than others and some metals highlight certain gemstones better than others.
A good rule of thumb is that people with cooler skin tones appear best in light metals, such as platinum and white gold. Rose and yellow gold jewelry looks best on warm complexions. Those with neutral skin tones will look great in any white, rose, and yellow metals.
Karat refers to the percentage of the gold in the alloy. Typically, all gold used to create jewelry, needs to be mixed with other metals such and copper, silver, and/or zinc. The purest form of gold that is undiluted with any other metal is called 24kt gold which has 100% gold.
The diamond industry is very controversial. Diamonds are often extracted from mines in countries with violent civil wars, resulting in destruction and corruption. These mines are often controlled by rebel groups that use the profits from their diamond sales to fund violence against governments and civilians. The diamonds that come from such mines are called conflict diamonds or blood diamonds. For example, in Sierra Leone, rebel forces used diamonds to buy weapons and pay soldiers. In the 1990s, the diamond trade financed a civil war that killed 50,000 people and left hundreds of thousands homeless. This type of treachery still continues to date. To make it worse, diamonds are also mined in countries with poor working conditions and low wages.
The diamond industry has attempted to regulate the market by trying to track diamonds from mine to a retail stores. This process is called the Kimberly Process. The Kimberley Process (KP) is a voluntary, international certification scheme that aims to prevent the trade of conflict diamonds. The KP requires participating countries to certify that the diamonds they export are conflict-free, based on the origin of the diamonds and the processes used to extract and trade them. This is an extremely difficult, but not impossible process. Having said that, there is no way to guarantee that a given diamond in a jewelry retail store, thousands of miles away from its source, is 100% conflict free.
Yes, lab grown diamonds, as the name implies, are grown in a lab and are never involved in the war, violence, and conflict so often associated with mined diamonds.