Whether it's a keepsake bracelet, a diamond necklace or a ring to hold one of your most cherished memories, let loose your imagination and bring your vision of luxury to life. TRULY CUSTOM
Let's start your journey
What do you want to design?
Our devotion is in the details.
Get transparent
center stone pricing
Generate 3D renders
for your designs
Wear your piece in as
little as 14 days*
A few of our love stories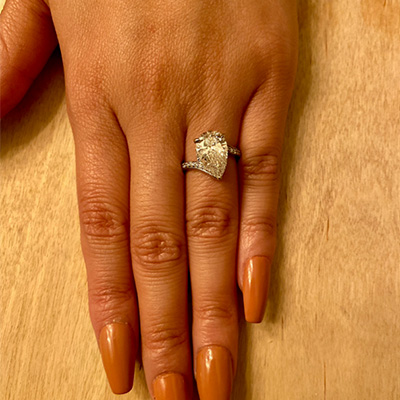 Connor
The Truly Custom design process was smooth from start to finish and Read moreI was paired with the same person from start to finish which made the entire process a breeze! Grown Brilliance was able to create a unique one-of-a-kind piece for me based off of an image I had gathered from the internet along with a detailed description of my needs. They were transparent with their pricing and design process and never made me feel rushed as I made this once in a lifetime purchase. Overall, I would highly recommend the Truly Custom design process to make the ring of your dreams become a reality. Thank you, Grown Brilliance! Read less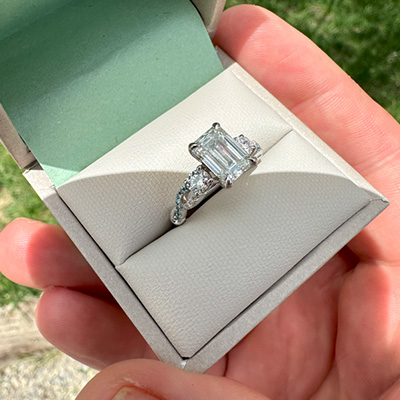 Chris
The team at Truly Custom took a half-paragraph description from a personRead more who had never bought a piece of jewelry in his life and turned it into a gorgeous design. The design concept rendering was beautiful, but nothing prepares you for seeing the ring in person, or on her finger. It is truly stunning. I was a bit of a nervous wreck waiting on this ring to be completed, but Nicole was patient with me and gave me frequent updates on the production. For value, customer service, and design, I give Truly Custom a 10/10. Read less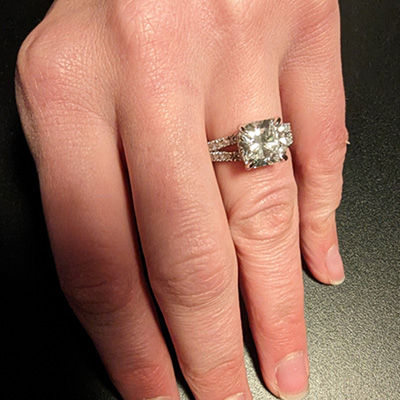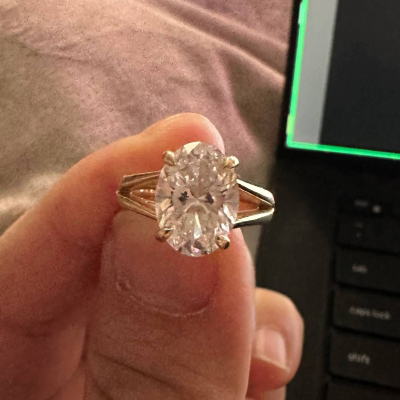 Thino
She said yes! The ring came out amazing and a lot better than expected.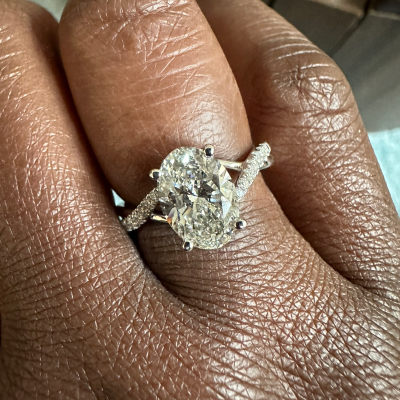 Ramona
I'm obsessed with my ring!
I want to thank GB for bringing to life my dream ring. The customer service Read morethroughout the entire process was EXCEPTIONAL.I wanted a "self-love" ring that I could be proud of so the design team took my edits and noted every detail that I wanted to include and absolutely nailed the final design! I gasped at how beautiful the ring was when it arrived and could not be more in love with it! Read less
Frequently Asked Questions
What is the anticipated timeframe to create a Truly Custom Order?
As little as 14 days. Once you submit your design, allow 2-4 days to receive a link to your jewelry. Then, once you place your order, most items ship within 10 to 12 days. More complex designs or designs with specialty stones, including fancy color diamonds, may take a bit more time. Check the Estimated Ship Date on your link when you receive it. We do our best to estimate your expected shipping date. All items will ship via FedEx 2Day at no additional charge. You may choose FedEx Priority Overnight for an additional charge at checkout. Please note, electing FedEx Priority Overnight does not expedite the lead time it takes to create the jewelry.
Can I expedite my Truly Custom Order?
Unfortunately, no. Truly Custom orders cannot be expedited as we handicraft each piece, and when the order is ready, it ships. Grown Brilliance's 14 day timeline is one of the fastest in the industry for custom designed jewelry. Rest assured that our design and production teams work diligently to process your design orders as quickly as possible. We suggest ordering 2-4 weeks in advance of any special dates. When you place your order, you may select FedEx Priority Overnight® for an additional charge at check out. Please note, electing FedEx Priority Overnight® does not expedite the lead time it takes to create and ship the jewelry.
Can you replicate a design from an image?
Yes, but please note that we cannot copy a direct design from another jeweler or infringe on a trademarked design. However, we will work to create a piece that is as close as possible to your original reference item without infringing on any trademarks.
Can you create designer jewelry?
We can make a custom design, or your jewelry inspired by another piece. However, we cannot replicate a design from another jeweler to produce an exact match. Our designers will create a piece as close as possible to the original reference item without infringing on any trademarks.
Is there anything that can't be included in the design?
Alongside lab grown diamonds, we are currently only including created sapphire, created ruby, and created emeralds in the designs. Additionally, we do not create Truly Custom orders in Sterling Silver, and we will not include other retailer or designer logos to avoid infringing on any trademarks.
Are there any specific criteria my design needs to meet?
A Truly Custom design must be structurally sound to stand up to normal wear, and to properly secure the diamond. Our designers will work to create a final design that meets both your design request and these criteria. Please note, we may not be able to create your piece due to price, availability of materials, or inability to maintain the integrity of the piece.
Can I modify the design if needed before you start creating the piece?
Yes, you can! Should you need any modifications to your design, please schedule an appointment with the Truly Custom team so we can clarify your design changes. When we send you your original design, we will include a link to book an appointment with one of our experts. Once clarified with the expert, we will consult the design team on your behalf, and a new design image will be produced within 2 business days for your review.
Can I cancel my Truly Custom order after I complete my purchase?
You may cancel your Truly Custom order within two (2) business days of your purchase for a full refund, with the exception of any pre-paid deposits, which will be refunded as a credit to your account. After two (2) business days, should you cancel your order, we will refund your purchase as a store credit, including any pre-paid deposits. Store credits will never expire and can be used toward any future purchase or purchases at Grown Brilliance.
What are the types of jewelry that I can customize?
You can request the customization of rings, bracelets, necklaces, and earrings. Please note, we may not be able to create your piece due to price, availability of materials, or inability to maintain the integrity of the piece. If you wish to inquire about customizing a different type of jewelry, we suggest first booking an appointment with one of our Truly Custom experts here.
Can I return or exchange my Truly Custom order?
You may return your Truly Custom order for store credit only within 30 days of purchase. Upon receipt of your return, we will refund your total purchase amount, including tax, to your Grown Brilliance account. This store credit will never expire and you may use it on any future purchase or purchases. Note that you will still be responsible for your original purchase on your original payment method.
Are Truly Custom Orders more expensive than other items on your website?
No. We don't include any additional charges to create your Truly Custom design. Unlike other retailers, we do not charge extra for the design process including artist sketches (if required), computerized CAD designs, or photo and video rendering. We apply the same GB 365 pricing methodology to our Truly Custom designs that we do for all jewelry that we sell at Grown Brilliance. We offer our best price every day, 365 days a year. Rest assured, there are no additional or hidden fees in the Truly Custom pricing.
Will I receive a wax model of my jewelry?
No, a wax model is not required to be able to create the piece. We can design and present to you a video and multiple angle views of your design without a wax model. Once you make your purchase, we immediately begin creating your piece.
How much does it cost to custom design your own jewelry?
The price of your Truly Custom design depends on a few factors, including the total diamond carat weight, the amount and type of metal used in the setting, and the labor costs. For rings, we present the diamond prices up front by shape and carat weight. Then, when we present your design to you, we will show you the setting price, the center diamond price, and the total price. There are no additional charges for using our Truly Custom design service.
Where are your custom designs made?
At Grown Brilliance, we have a global supply chain. Most of our settings and diamonds are created overseas by our trusted suppliers and then shipped into our fulfillment center in the United States. Center stones are set in the United States, where every element of the Truly Custom order goes through a final quality inspection prior to shipping.
Questions for us? Check out our FAQs below for some quick help! Or you can always reach out to us at

[email protected]

.