The Jewelry Box
Every piece of jewelry from Grown Brilliance ships in this sustainable jewelry box made from recycled materials. It's perfect for gifting and for keeping your jewelry for years to come.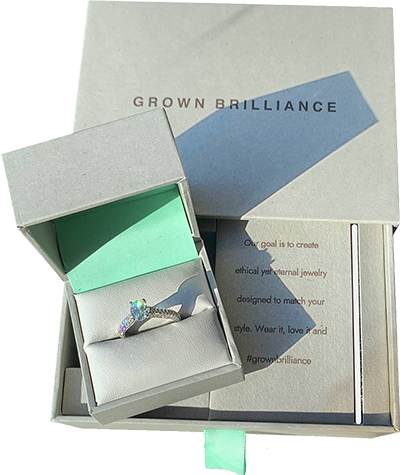 Flexible Payment Options
Major Credit Cards
Affirm Financing
Wire Transfer
PayPal Express
Apple Pay
Google Pay
Flexible International Payment Options
Major Credit Cards
Klarna Financing
Paypal
Apple Pay
Google Pay
Other Local Payment Options
* Not all payment options are available in all markets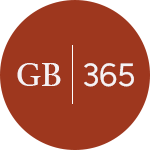 Shop confidently knowing that our diamonds and jewelry are priced right year-round, without ever going on sale.
At Grown Brilliance, we've harnessed the marvels of science and artistry to present a selection of diamond rings that resonate with grace and conscience. Each gem tells a story of modern elegance paired with ethical sensibilities. Our selection is a testament to a new era of sustainable luxury. Explore our collections, where timeless glamor meets contemporary responsibility.
Rings Available at Grown Brilliance
Our lab grown diamond ring collections at Grown Brilliance are designed to captivate with a blend of luxurious elegance and flair. From the scintillation of engagement rings to the magnificence of statement fashion pieces, our selections are a treasure chest of sparkling options.
Solitaire
Discover the timeless allure of our solitaire engagement rings. Each piece showcases a singular, stunning gemstone, elegantly set to highlight its brilliance. Perfect for those who appreciate classic beauty, these rings are an exquisite symbol of your everlasting love.
Solitaire With Side Stones
Put a luxe twist on a simple design with our selection of solitaire engagement rings featuring side stones. These engagement rings feature a dazzling central gemstone flanked by smaller yet equally stunning stones for added brilliance. The number of stones ranges from simple three stone settings to full eternity bands to elaborate marquise vine designs.
Halo
Step into the limelight with our halo diamond rings, where a central gemstone is encircled by a halo of smaller stones, magnifying its radiance. This design enhances the ring's sparkle and gives the illusion of a larger center stone. Ideal for those seeking a blend of opulence and modern style, these rings epitomize luxury.
Wedding Bands
Memorialize matrimonial elegance with Grown Brilliance's selection of wedding bands. Each ring embodies a timeless love story crafted for enduring beauty and ethical grandeur. Choose from a breathtaking array of responsibly grown gemstones like diamonds, sapphires, and emeralds, set in your choice of platinum, gold, or rose gold.
Anniversary Bands
Celebrate love that stands the test of time with Grown Brilliance's anniversary bands. Crafted with precision and a palette of scintillating, ethically grown gemstones, each band is a timeless tribute to enduring romance. From sleek channel set bands to multi-stone settings that symbolize each year spent together, our collection has the perfect ring to help you celebrate important relationship milestones.
Eternity Bands
Capture the essence of forever with our eternity rings. Expertly set with a continuous circle of ethically grown diamonds, these rings symbolize unending love and commitment and each piece is crafted to be cherished for a lifetime.
Men's Rings
Embrace modern sophistication with our exceptional men's rings. From timeless signet rings to sleek bands, each piece perfectly blends masculinity and elegance. Sculpted in sustainable materials like platinum and gold, and adorned with ethically sourced gems, our rings are more than style statements—they're an expression of your values and integrity.
Fashion Rings
Unveil your inner fashionista with Grown Brilliance's fashion rings—each piece is a symphony of artistry and sustainability. From audacious cocktail rings to delicate stackables, our designs radiate contemporary elegance.
The Benefits of Choosing a Grown Brilliance Ring
Indulge in sophistication and beauty with a conscience. At Grown Brilliance, we weave the magnificence of nature with cutting-edge science to gift you jewels that aren't just radiant but also responsibly created. We source our diamonds from labs that use state-of-the-art technology and sustainable processes to grow gemstones, providing an attractive alternative to traditionally mined rings.
Higher Quality and Fewer Impurities
Our lab grown gemstones are meticulously crafted to reach unmatched purity and brilliance. With fewer inclusions and superior clarity, each gem is a testament to our commitment to excellence.
Affordable Luxury for Everyone
Experience the allure of genuine luxury without the traditional price tag. Grown Brilliance lab created diamond rings offer unparalleled elegance at a fraction of the cost, making it accessible to all who cherish the finer things in life.
Ethical and Conflict-Free Sourcing
Ethical brilliance, ethical you. With Grown Brilliance, rest assured that your ring comes from a source that's 100% conflict-free. Our commitment to social responsibility ensures that your ring is as pure in origin as it is in beauty.
Create Your Dream Ring
If you are looking for a unique ring design that reflects your personality, style and story, Grown Brilliance offers two simple customization options to create a one-of-a-kind piece of jewelry:
Design Your Own: With the Design Your Own service, you can create a custom engagement ring in just a few simple steps. Select your ring type, from solitaire to channel set, then choose your diamond cut and carat weight. Then choose your diamond setting and ring metal and our artisans will craft your ring to your exact specifications. You can also create a matching wedding band for a custom bridal set.




Truly Custom: Our Truly Custom service enables you to design any piece of jewelry and bring your vision to life. Just upload a photo, drawing or description, and our team will create a 3D rendering of the piece for your approval. Once you approve your design, our craftsmen will construct your ring in as little as 14 days.
Finding your ideal ring size is a breeze with our printable ring sizer. Simply download it from our website and print it at 100% scale. You can measure your finger using our paper sizer or a string and compare the results with our guide. For the most accurate fit, measure when your fingers are warm and at their fullest size—usually at day's end. If you're between sizes, opt for the larger option.
The short answer is no. Professional jewelers and gemologists cannot visually differentiate between a lab-grown diamond and a natural one. They require a microscope to examine the inclusions, which reveal the origin of the diamond. Lab-created diamonds mimic natural diamonds so closely that a trained eye alone cannot distinguish them.
A contour wedding band is designed to elegantly complement the shape of the engagement ring. Its curved shape allows it to fit flush with the head of the engagement ring, creating a seamless look.