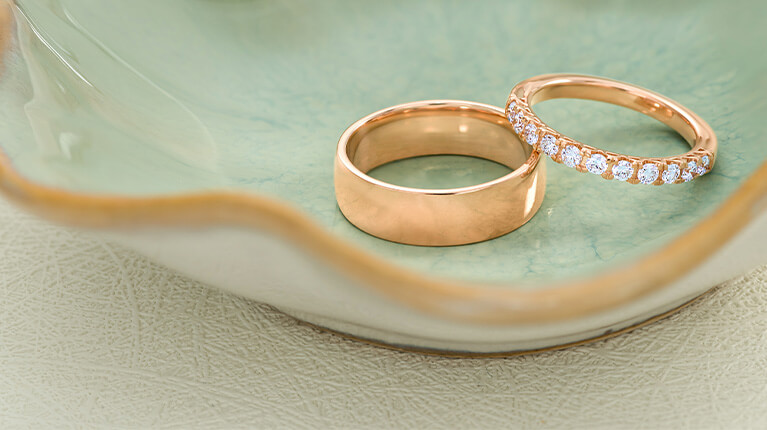 Wedding Bands, A Symbol of Commitment
J.W. Lord, the author of Worlds said, 'A wedding ring is a symbol of commitment; a promise, a pledge and a vow.'
We all dream about that big day when we would walk down the aisle and pledge to each other of ever-lasting love. All of this is made official with the help of a beautiful wedding ring that is slipped onto our partner's finger.
Traditionally, the wedding ring is placed on the fourth finger of your left hand. There is a reason for that. The vein on the left finger is directly connected to the heart. This means your wedding ring is the representation of the eternal love that exists between both partners. Hundreds of years later, the tradition is still followed closely. The rings also symbolize pride. As we have our rings on, we feel prideful of our marriage and our partner. Both of you will show off your ring with pride, signifying your love and commitment with each other.
It is important that the wedding ring you pick, matches your engagement ring in such a way that it fits snug along with it. Most of our top selling engagement rings come with a matching wedding band. If you are looking to match an existing engagement ring with a wedding band, please email our customer service team and they will be happy to help you!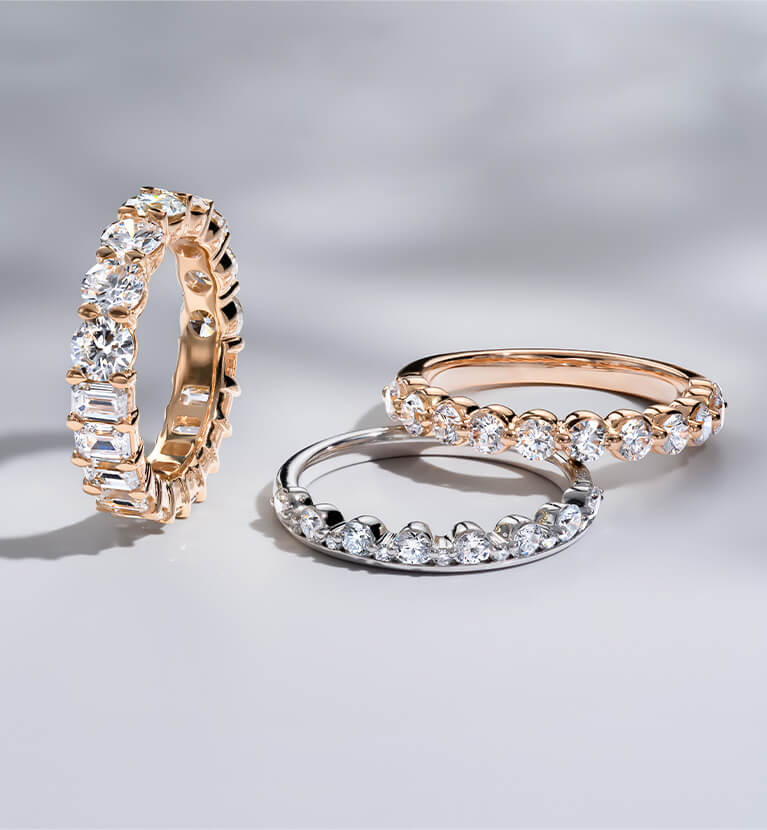 Every woman wants to choose or receive a wedding ring that suits her personality and matches her engagement ring the best. Let's learn the popular styles of wedding rings that are commonly chosen.
This ring style usually features a row of diamonds held in a track, or "channel" between two walls of metal. The diamonds are nestled against each other and not separated by prongs or metal.
Shared prongs are just that… two or more diamonds that share the same prong in the setting. They usually consist of a row of diamonds without a metal border and allow for maximum sparkle and light reflection. These rings exhibit the sheer brilliance of diamonds.
Borrowed from the french style of setting diamonds, this type of setting is typically used to set smaller diamonds that are set closer together with tiny prongs that give the best sparkle and least amount of gold showing face up.
These are purely classic and timeless metal bands. They have no embellishments like diamonds. Not only traditional and comfortable, they are stylish with being designed in platinum, 18k white, and yellow gold.
A diamond eternity ring has diamonds that wrap themselves sweetly all the way around the finger. Be careful… some eternity rings cannot be re-sized if your finger size changes. It's best to place a special order in case you want to change your ring size. Eternity bands can be styled as either, east west, which is stones going across in the length, or, north south, which is stones going up and down. You can also design a band with mixed shapes like emerald, ovals and pears in one eternity ring.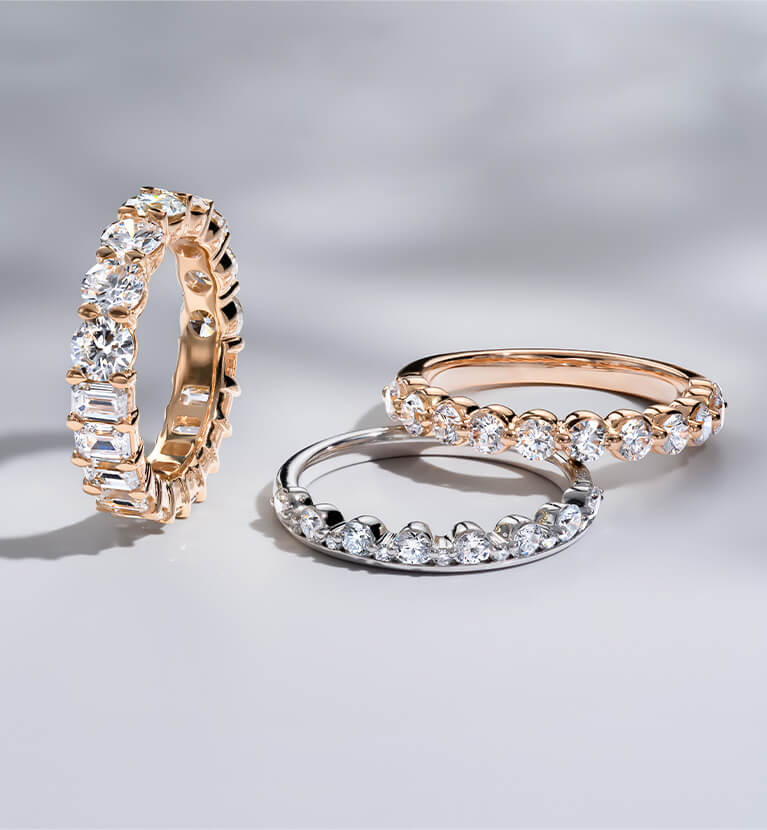 There are various choices for wedding bands available for men. Here are a few common options: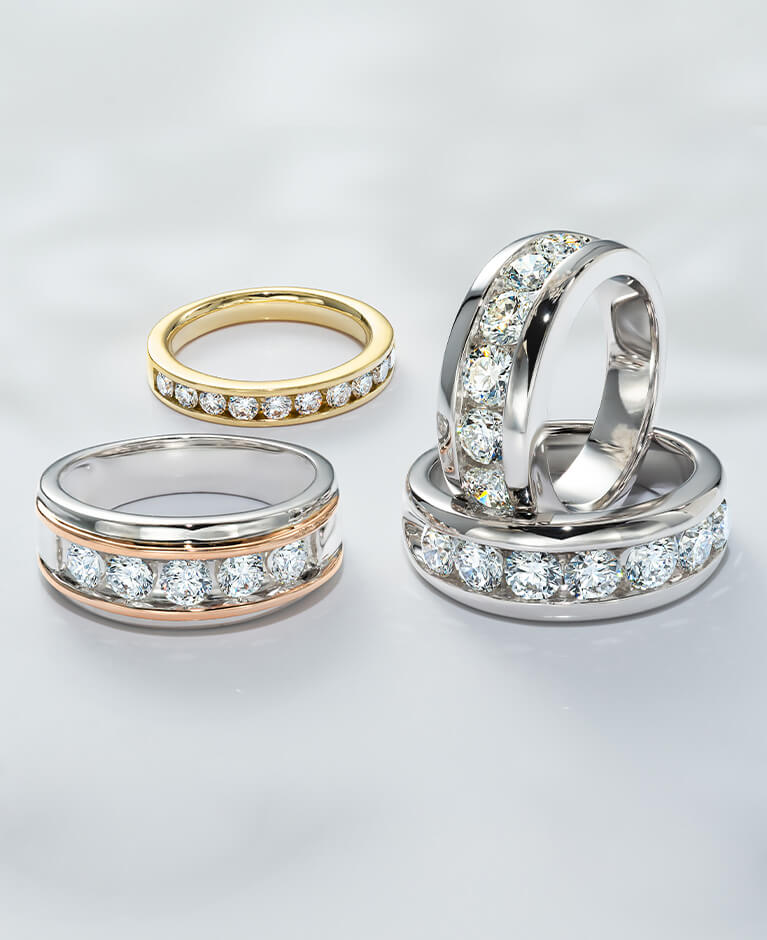 Plain Wedding Bands
Are you a person with a preference for traditional rings? Then a plain wedding band with no diamond or gemstone accents would do the trick for you. You can often choose it in 14K gold, 18K gold, platinum, or other metals. Often, grooms choose to wear a ring of the same precious metal as their brides.
Men's Diamond Wedding Bands
Men's wedding bands often vary in width. Narrower bands make for a humble choice whereas wider ones can create more of a noticeable look. Wider rings are also more expensive because a larger amount of precious metal is used in them.
Wide Wedding Bands
Men's wedding bands often vary in width. Narrower bands make for a humble choice whereas wider ones can create more of a noticeable look. Wider rings are also more expensive because a larger amount of precious metal is used in them.
Unique Wedding Bands
Some men also wish to infuse their wedding ring with a personal style for a detailed or modern look. These grooms want to choose a hammered or a brushed finish, a band which has a gemstone accent, one with a masculine braid, or any other symbol.
Men's Diamond Wedding Bands
It has become more and more popular for men to choose bands with diamonds in them. It could help you to stand out in the crowd as a groom.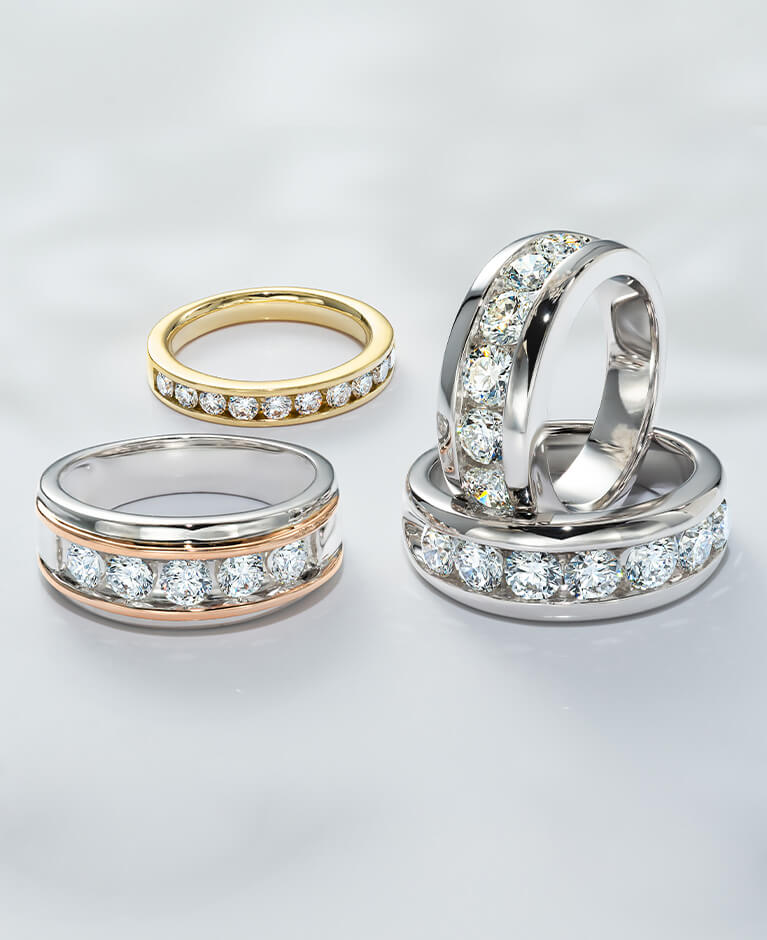 How to Wear Your Wedding Band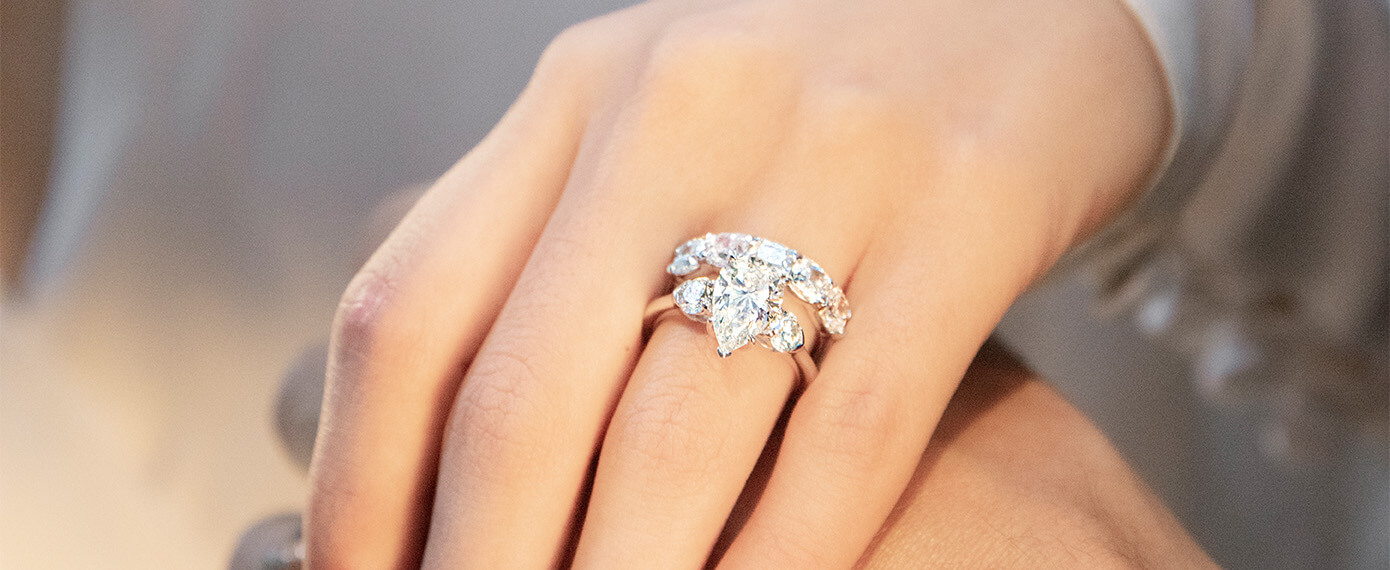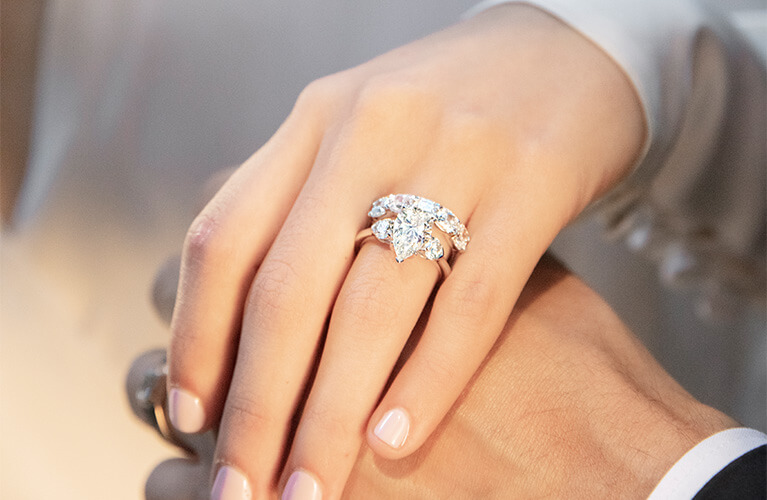 Your wedding band is an important part of your persona and must be showed off in the best way possible. Traditionally, the wedding band is worn inside the engagement ring, so that it is "closest to the heart." Today, many women mix and match their wedding band with other bands and metal colors for a stacked look on the finger.
Match Wedding Bands and Engagement Rings
The general rule is that if the wedding ring looks good with the engagement ring, then it's perfect. Many engagement rings have a matching wedding band, designed to match perfectly, and take the guess work out. Traditionally, most women choose a band that matches the same settings as the side diamonds on their engagement ring. Or they chose a traditional prong set band. Today, you can choose complementary styles and metal colors to pair with your engagement ring.
Choose a Complementary Wedding Band
Do you want your wedding and engagement rings to fit excellently together but do not want them to be a perfect match? Then it is best to consider a wedding ring which complements your engagement ring in the way the diamonds are set.
You can choose to have the same precious metal used, giving both your rings the same properties. Moreover, you can have your engagement and wedding rings include the same sized gemstones.
Another option is to have the aesthetic and the style of your rings similar. For instance, if you have a vintage-looking engagement ring, get a similar style for your wedding band.
Figure out if you want your wedding band flush against your engagement ring or if you'd be okay with a small gap. Your preference here will affect the style of your wedding band. If you don't want a gap between rings, opt for a classic wedding band like a plain metal band or an eternity band or for a perfect fit on your finger, explore contoured bands, which are designed to match the curvature of your engagement ring for an exact fit.
You can also focus on the shape of the center stone to determine the best paired wedding band. For example, princess cut diamonds look great with round-cut stones while a cushion cut center stone looks best with other cushion cuts. Also, know your diamond and pair accordingly. For example, an emerald cut is a statement piece which should be allowed to shine on its own merit and be paired with a simpler band to preserve and highlight the timeless cut.
Also, don't be afraid to get creative. You can mix metals for a more modern look and to find complimentary sets without settling for a matching pair. Use your unique style to find a set that compliments each other and you.
Wear a Separate Wedding Band
You may opt for an exclusive wedding ring that doesn't compete for attention with your engagement ring. If you have a modern aesthetic, you may also wish to showcase your engagement and wedding rings separately.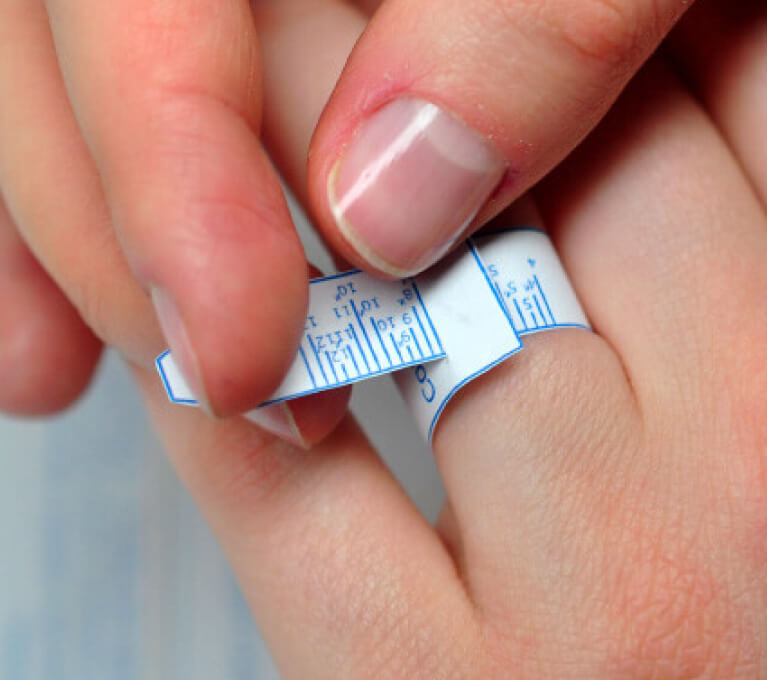 Finding Your Ring Size
There are various ways which can help you in finding the right ring size. To see various ways to find your ring size, Click Here.
Print Our Free Ring Sizer
Click Here for a printable ring sizer to help you measure your ring size conveniently.
Helpful Hints for Measuring Ring Size
Make sure your finger is at normal body temperature as you measure your ring size as they can expand or shrink depending on whether they are hot or cold.
If you don't know your partner's ring size at all, it is safest to select one standard ring size.
Rings with wider bands will fit a bit tighter so choose the size accordingly.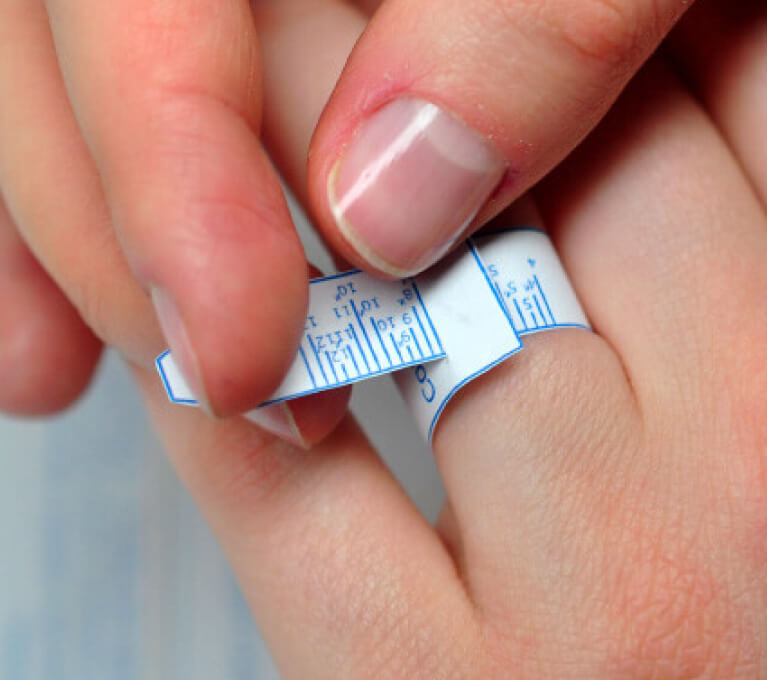 How to Care for Your Wedding Band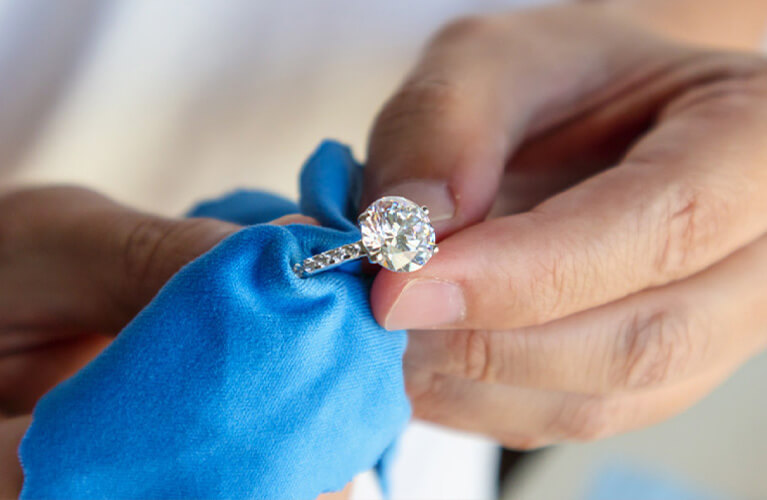 You can clean your lab grown diamond jewelry the same way that you do most of your fine jewelry. One simple method is to use a little dish soap and warm water and gently scrub your jewelry with a soft cloth or soft bristle tooth brush. Rinse it clean and then let it dry on a soft cloth. Another options is to use an ultrasonic jewelry cleaner. If you need more professional cleaning or repairs, please contact us.
Get your Ring Insured
Do you want your ring to last a lifetime? You should insure it as soon as possible in order to protect your investment. You may be able to add it to an existing policy, or you can add a separate policy through a private insurance company.
Never take it off in public
It is best not to remove your ring when you're in public. You may forget where you put it down, or it could go down the drain if you remove it to wash your hands
Remove your engagement ring occasionally
When at home, there may be times that you would want or need to remove your engagement ring. These could entail everyday tasks such as showering, cleaning, or cooking, or sleeping. In fact, if the ring is not removed at these times, dirt and grime can build up. When you do take off your ring, be sure to keep it in a safe place where you can easily find it later.
FAQs - Frequently Asked Questions
A wedding band is a ring exchanged during the marriage ceremony to symbolize a couple's love and commitment to one another.
The cost of a wedding band varies based on the metal, design, and any other additional features such as gemstones or engravings. There is no set amount that one has to spend on a wedding band, but it is important to set a budget for yourself and choose a ring that fits within your means.
Traditionally, wedding bands are worn on the ring finger of the left hand, but, ultimately, where you decide to wear your ring is up to you.