The Jewelry Box
Every piece of jewelry from Grown Brilliance ships in this sustainable jewelry box made from recycled materials. It's perfect for gifting and for keeping your jewelry for years to come.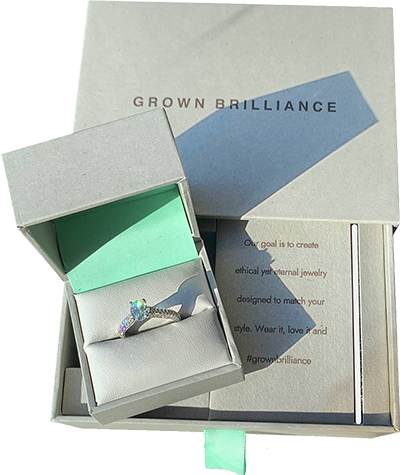 Flexible Payment Options
Major Credit Cards
Affirm Financing
Wire Transfer
PayPal Express
Apple Pay
Google Pay
Flexible International Payment Options
Major Credit Cards
Klarna Financing
Paypal
Apple Pay
Google Pay
Other Local Payment Options
* Not all payment options are available in all markets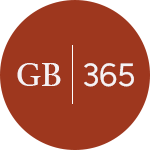 Shop confidently knowing that our diamonds and jewelry are priced right year-round, without ever going on sale.
Adorn yourself in our lab created diamond earrings from Grown Brilliance. From studs and hoops to dangles and drops, you're sure to find the diamond earrings that suit your style.

At Grown Brilliance, we offer a wide range of man-made diamond earrings. Browse our newest arrivals or top picks for trending pieces.

Choose from a large variety of diamond shapes, including round, oval, emerald, cushion, pear, princess, and more. You can finish the earrings in yellow gold, white gold, rose gold, or platinum. Our 1-carat lab diamond earrings and larger are made with exceptional craftsmanship, so you can be confident that you're getting high-quality jewelry when you shop with us.

We are proud to be a leader in the jewelry industry. Our conflict-free diamonds are loved and enjoyed by many customers. In fact, our lab grown diamonds are affordable and perfect for any occasion. They are identical to mined diamonds: The only difference is that they are made in a controlled laboratory environment. Best of all, lab grown diamonds are significantly more affordable than mined diamonds.

Explore our offerings and find the perfect pair of earrings at Grown Brilliance.
At Grown Brilliance, we've redefined "real." Lab created diamond earrings are, in fact, real. They're physically, chemically, and optically the same as a mined diamond. The only difference is their origin. Man-made diamonds are grown in a controlled laboratory setting, whereas natural diamonds are dug up from the earth's crust. A pair of lab grown diamond earrings can range from hundreds of dollars to thousands of dollars. It all depends on the size and quality of the diamonds, the metal that they are set into, and whether or not they are certified. Best of all, lab grown diamonds are significantly more affordable than mined diamonds, so they are a valuable investment.
Yes, diamond earrings can be worn daily. They are classic, elegant, and beautiful, making them the ideal accessory for any outfit. While diamond studs are great for daytime, you can easily dress up an ensemble for a night out with diamond drop earrings, dangle earrings, or diamond hoop earrings.

Additionally, to ensure your diamond earrings last for years to come, clean them often with warm soap and water and dry them with a soft cloth.
The most popular style of earrings are diamond studs, hoop earrings, and diamond drop earrings. These are staples in any jewelry wardrobe, and they make the perfect gift!

If you're looking to add 1-carat lab grown diamond earrings, consider drops and ear climbers. Drop earrings suspend just below the ear lobe, while climbers travel up the ear. For formal events and parties, drops and climber diamond earrings can add a classy touch to your overall look. These styles will set you apart from the crowd! If you're seeking to add 2-carat lab grown diamond earrings or larger to your collection, consider studs, hoops, and drops. Diamond studs are a great staple to have in your collection. They can be worn every day, whether you're going to work or out to dinner. Hoops and drops are another versatile style that can easily elevate an outfit.