---
---
---
Getting engaged is one of the most significant events in the lives of many couples, and the engagement ring plays a crucial role in this moment. This complete guide to selecting an engagement ring will help you understand the many types, shapes, and styles to make the best choice.
---
History of Engagement Rings
This long history began in 1477 when Archduke Maximilian of Austria married Mary of Burgundy in Vienna's Imperial courts; he created the first well-documented diamond ring to signify his engagement to her.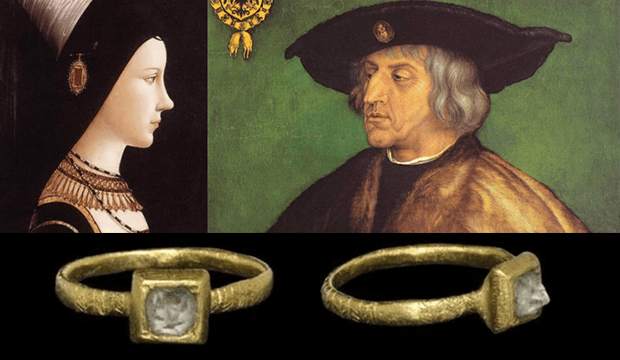 This occasion made giving a diamond ring as an engagement gift more common and kicked off the development of what would come to be known as a new tradition. Diamond rings were increasingly sought after by European royalty and aristocracy, who made them a popular choice.
Following that, the tradition is still practiced today; not just in Europe but also in other parts of the world. Especially in North America, people adore this style of ring and its heartfelt connotations. Diamonds are still used to celebrate unions and treasured memories today, making them the ideal choice for a proposal.
---
---
---
Engagement Rings by Style
You can find a variety of designs here, from an outstanding and unique creation by Grown Brilliance to a more traditional diamond ring. We offer everything you need to create the most unforgettable moment of your life.
In order to provide you with the clearest and most accurate information regarding engagement rings, we have put together this useful guide. Check it out to learn more about the many styles:
---
---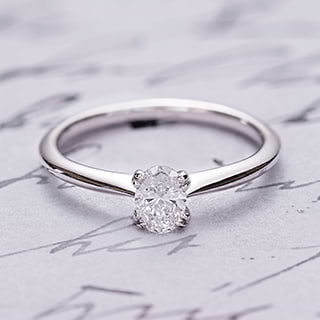 Solitaire
A solitaire engagement ring is an excellent choice for the traditional bride-to-be. Solitaire rings are easily one of the most popular settings available, with a traditionally appealing style that places all emphasis on the center stone.
They're classic pieces of jewelry that will never go out of style – you can't go wrong with them.
BROWSE
---
---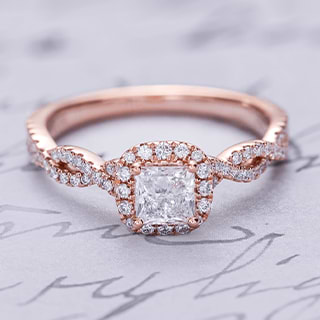 Halo
When it comes to side stone designs, these rings feature diamond accents that match the central stone and give it a beautiful sparkle. From the traditional straight shank to stunning twisted bands and a split shank, this design can take on various shapes.
For women who enjoy jewelry with a unique touch, side-stone rings are simply perfect.
BROWSE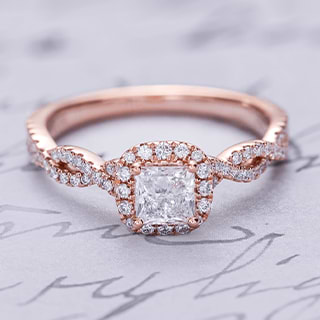 ---
---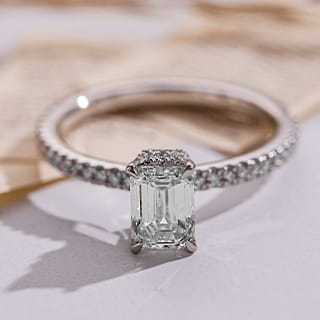 Hidden Halo
Instead of framing the center stone, the hidden halo setting sits below it and with the function of being the diamond's base, in a "hidden" way. The center stone is brighter from above than from other angles, because there are small pavé stones visible.
BROWSE
---
---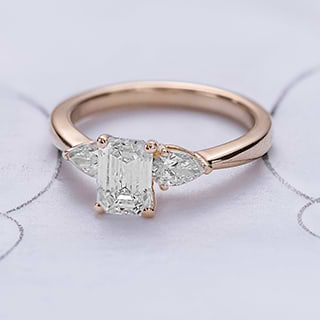 Three Stone
White gold is the perfect option to wear on summer days because it never tarnishes, rusts, or corrodes. In addition, white gold is more malleable than platinum, which means that this material can be worked into fine, delicate shapes more easily.
Similar to platinum, white gold is made from alloys with one or more white metals, like palladium or nickel. It is also a fairly popular choice for wedding and engagement rings.
It's also less expensive than platinum, making it an excellent choice for those who want the beauty of platinum, but with the legacy and classical style of gold.
BROWSE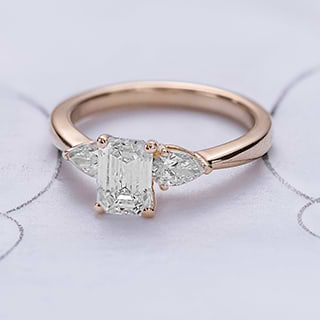 ---
---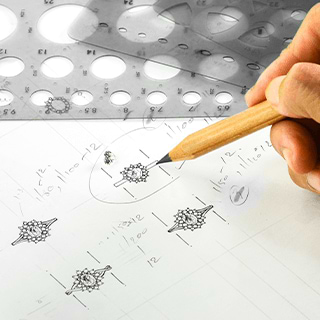 Custom designs
Custom designs are the best way to make your jewelry something even more unique, and it's the perfect way to design anything your heart desires. With them, you can make your dreams a reality and be the creator of your engagement ring.
DESIGN
---
---
---
---
---
Engagement Rings by Shape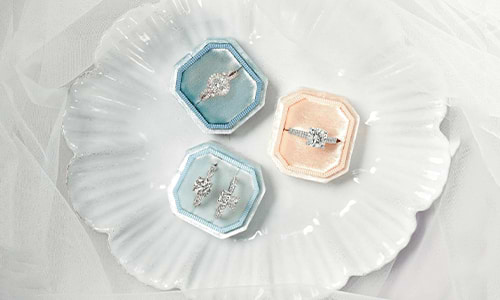 The diamond's shape will determine how brilliantly and in what ways your engagement ring will sparkle, making it essential to your ring's design. After all, they serve as the diamond's "face," and have a significant impact on the design of your ring.
In addition, you can also have lab grown diamonds in any shape, such as princess cut, pear cut, round cut, marquise cut, cushion cut, oval cut, asscher cut, radiant cut, emerald cut, and heart cut – check it out!
---
---
---

Round

Oval

Cushion

Pear

Emerald

Radiant

Princess

Marquise

Asscher
Heart
---
---
---
A magnificent lab-grown diamond reflects many elements of true love, such as truth, preciousness, and eternity. In fact, the lovely round shape of a classic round cut diamond in an engagement ring further emphasizes eternity. After all, the durability of a diamond conveys the message that they are eternal, just as true love is.
Even though styles come and go, the stunning solitaire has long been a favorite for engagement rings among many couples worldwide. However, keep in mind that your best choice is picking your favorite based on your own preferences, rather than just based on popularity.
This question has no one correct response, because it depends on each couple. What works for someone might not work for another person. The best strategy is to make the decision purely based on the couple's own preferences and the consultant's knowledge, making your ring even more distinctive and precious for this special moment.
However, lab-grown diamonds are the best and most ethical option for an engagement ring. To find the right diamond for you, we recommend choosing a diamond shape and then determining the best size for you and your loved one.