Search Loose Lab Grown Diamonds
Shape
?
Shape
Shape refers to the geometric outline of the stone, as viewed from above. The shape often determines the overall style of the finished piece of jewelry, but each shape has its own attributes and cut specifications. This means that a diamond's shape can be faceted, or cut, in many different ways. There are several shapes and cut combinations that appear together, so they have often been given their own names, like round, princess, cushion, and marquise.
Carat
?
Carat
Carat is the unit of measurement for the physical weight of diamonds, and is one of the most objective measurements of the "Four Cs" for determining the value of a diamond. One carat is equal to 200 milligrams, or 1/5 gram, and is subdivided into 100 "points". This allows very precise measurements to the hundredth decimal place.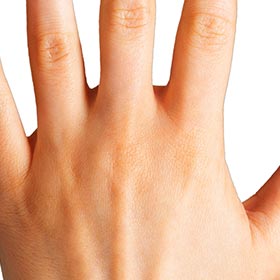 Actual Diamond Size 0.50 carat on Hand
Cut
?
Cut
Cut refers to a diamond's proportions, symmetry, and polish of the facets by the expert cutter. Cut does not refer to the shape of a diamond, such as cushion or princess. Cut determines a diamond's ability to reflect and refract light, which directly affects a diamond's beauty. With a better cut, the diamond will exhibit more fire, brilliance, and scintillation. Cut is graded by experts as Fair, Good, Very Good, Excellent, and Ideal.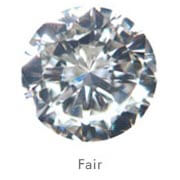 Clarity
?
Clarity
A diamond's clarity refers to the presence of impurities on and within the stone. Even when grown in a lab, tiny imperfections might be visible. These are called flaws or inclusions. They form during the growing process and are unique to each stone. The term "eye clean" refers to diamonds whose inclusions generally cannot be seen without magnification, and are typically graded SI or higher on the clarity scale.

Report
?
Report
A grading report or diamond certificate is an independent, expert opinion on the quality of the diamond. Gemologists from the world's leading grading labs use special equipment to measure the weight and dimensions of the diamond and assess quality characteristics such as cut, color, and clarity. Grown Brilliance only utilizes the most distinguished grading labs.Please contact us to request the grading report.
L:W Ratio
?
L:W Ratio - Length to Width Ratio
The length-to-width ratio compares the length of a diamond to its width to show how elongated a fancy-shaped diamond appears when viewed from the top. Length-to-width ratio is a matter of personal preference with some individuals preferring a more elongated shape and others a more equal or square shape. It is calculated as length divided by width.
Fluorescence
Fluor.
?
Fluorescence
Fluorescence refers to a diamond's tendency to emit a soft colored glow when subjected to ultraviolet light (such as a "black light"). Overall, diamond fluorescence should not be a major factor in the purchase of a diamond since its effects are negligible. Fluorescence grades include Very Strong, Strong, Medium, Faint, None.
What matters to you most?
Take a QUIZ

Which Shape do you prefer?

What matters to you most?

Good: Suggests the largest diamond for the budget
Better: A balance of diamond quality at the best price
Best: Incorprates the upper end of the 4Cs to provide the highest quality

Here are a few options

Please wait while result is loading...

| | Quick Ship | Shape | Carat | Color | Clarity | Cut | CERT. | Polish | Symmetry | DEPTH | Price | Compare | Wishlist | Choose |
| --- | --- | --- | --- | --- | --- | --- | --- | --- | --- | --- | --- | --- | --- | --- |
Select your perfect diamond from thousands of ethically created diamonds, then choose a setting and we will show you your custom-made ring.
Loose lab grown diamonds from Grown Brilliance are an ethical alternative to mined diamonds. They feature exceptional beauty and have the same physical, chemical, and visual properties as mined diamonds.
At Grown Brilliance, we carry a large assortment of loose diamonds online. In fact, we have over 20,000 diamond loose stones to choose from. These stones are available in many cuts, including oval, round, pear, cushion, emerald, princess, marquise, heart, and more. They also vary in cut, carat weight, clarity, and price. Rest assured you will find your favorite diamond that fits your budget. Whether you want loose grown diamonds for an engagement ring or other piece of jewelry, we can help you find the perfect stone.
We are your premier source for loose lab grown diamonds. All of our diamonds are crafted in a controlled laboratory setting by skilled scientists. Man-made diamonds possess the same fire and scintillation as mined diamonds. When you buy from us, you can be confident that you'll receive high-quality diamonds that are an ethical option.
Explore our selection and find the right loose lab diamonds at Grown Brilliance.