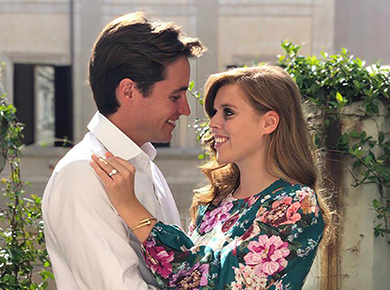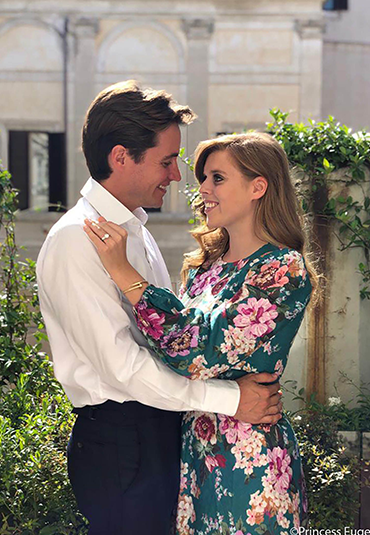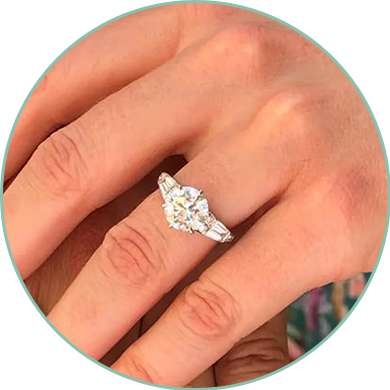 Princess Beatrice
Choosing an engagement ring inspired by a real princess is a surefire way to make your love feel like royalty. Of all the royal engagement rings, Princess Beatrice's round beauty especially stands out because of its multifaceted brilliance and flawless symmetry. The engagement ring features a central round diamond, the ideal shape for maximum sparkle, and is accentuated with baguette side stones. The dazzling combination is reminiscent of the art deco era. It radiates with old world glamor alongside its regal inspiration. Brides can enjoy the best of both worlds with the round diamond's brilliant fire and the enchanting deep facets of the step cut side stones. Find a design fit for a queen with our Princess Beatrice-inspired engagement ring.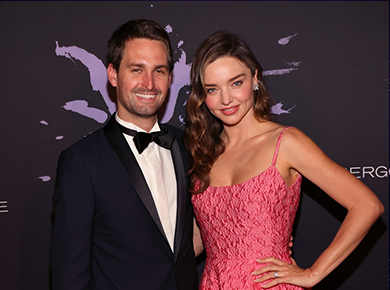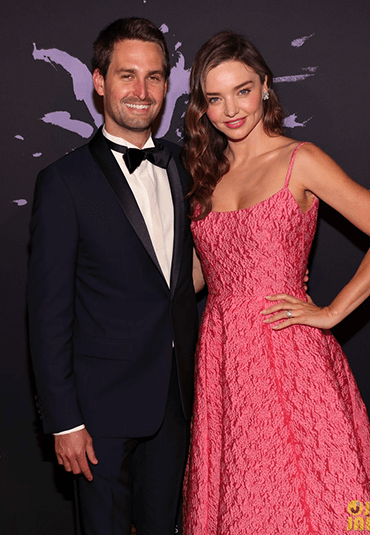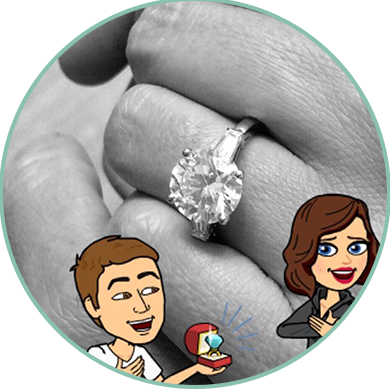 Miranda Kerr
Miranda Kerr is always excellent inspiration for those craving timeless elegance. The supermodel turned beauty guru is the lucky owner of an engagement ring that matches her sophisticated style. Her dazzling ring features a central round diamond surrounded by baguette side stones with pave accents for enhanced brilliance. This chic design creates a unique sparkle thanks to its combination of brilliant and step cuts from the central and side stones. Round diamonds are beloved for their 58 facets of unparalleled fire and scintillation, while baguette cuts feature the understated yet mesmerizing step cuts. For a ring that does it all, choose our beautiful Miranda Kerr-inspired design!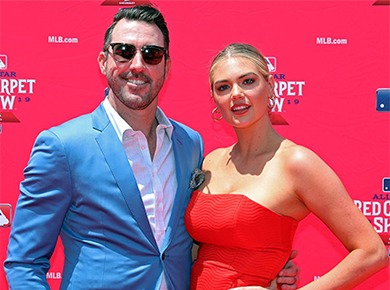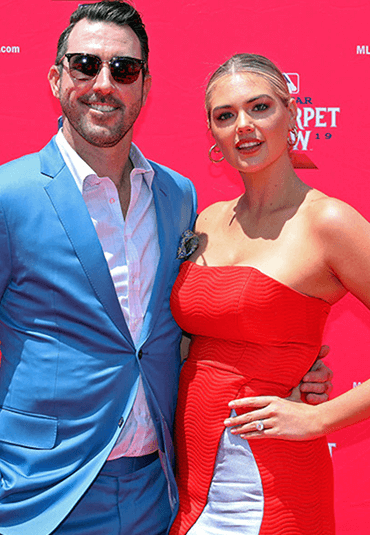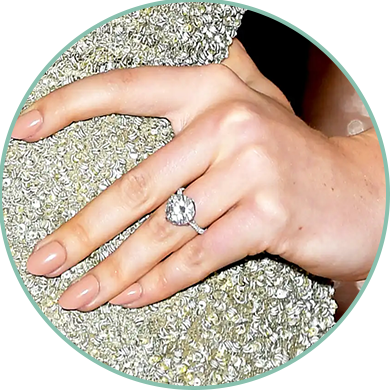 Kate Upton
Kate Upton and her stunning round diamond engagement ring are proof that solitaires will always be in style. The blonde bombshell's captivating stone is a classic round solitaire diamond, which remains the most popular engagement ring shape due to its supreme brilliance and fire. This timeless design lets the beauty of the diamond take center stage, truly highlighting the magnificent sparkle of the stone. The perfectly round shape is also a beautiful and luxurious way to represent infinite love. Encircled by a gleaming pave band, Kate's ring is ideal inspiration for traditional brides that want to keep it simple yet striking.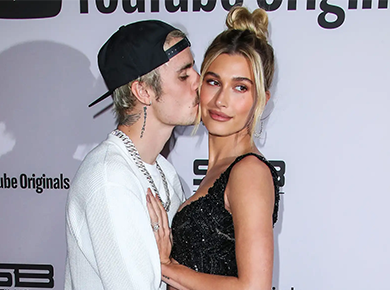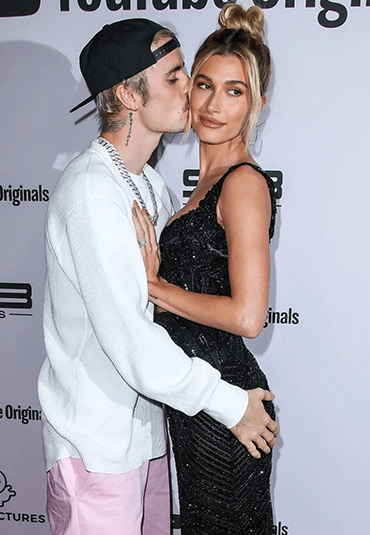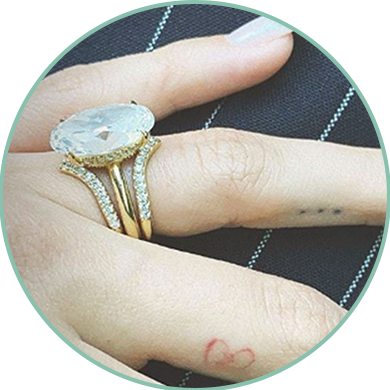 Hailey Bieber
Is there any trend that Hailey Bieber can't influence? The model's gorgeous oval diamond engagement ring from husband Justin is one of the most coveted contemporary styles for good reason. The oval solitaire stunner showcases the beauty of simplicity while creating a refined elongating effect on the finger. A hidden halo adds even more brilliance to this already mesmerizing style. Set against a solid yellow gold band, this beautiful ring lets the eye-catching size and shape of the oval diamond be the star of the design. If you're looking for a design that's equal parts bold and timelessly elegant, our Hailey Bieber-inspired engagement ring is the perfect design for you!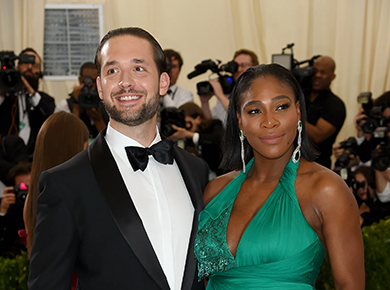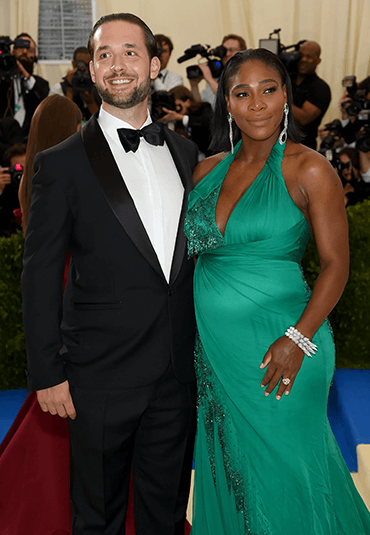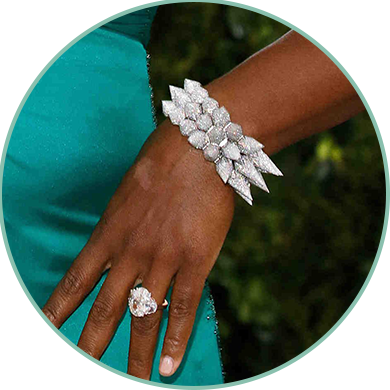 Serena Williams
With its dazzling central oval diamond and scintillating half moon side stones, Serena Williams' engagement ring makes a striking statement. The tennis superstar's ring is made for the bold at heart - its unparalleled level of sparkle truly goes to great lengths! Known for its elongating effect on the finger, oval diamonds are elegant and eye-catching. Add in side stones and you have a ring fit for a champion. The luxurious three stone setting is not only treasured for its amplified radiance; it's also filled with deep symbolism. Traditionally, the three stones are said to represent past, present, and future, creating a ring that is both meaningful and breathtaking.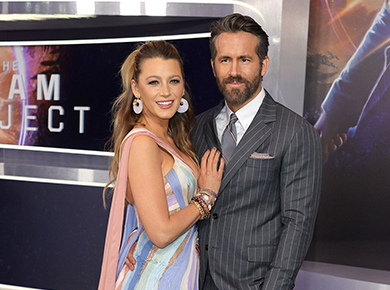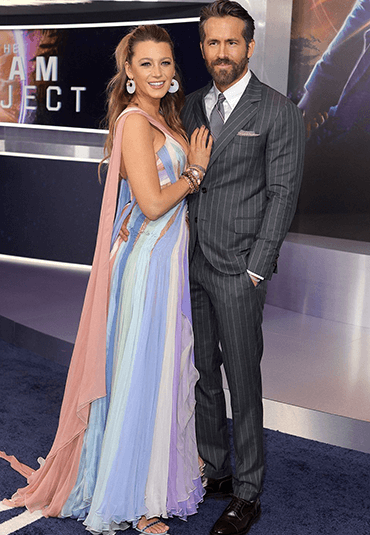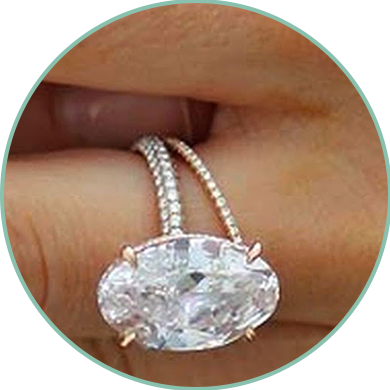 Blake Lively
Blake Lively's elegant oval engagement ring is a stylish example of larger than life brilliance. The design is timeless and sophisticated: it's a classic solitaire stone surrounded by a gleaming pave band for even more sparkle. This dazzling ring lets the beauty of the oval diamond become the focal point of the design, while the shape itself elongates the finger. Flattering and chic, Blake has inspired a sea of contemporary brides with her oval diamond engagement ring. It's the ideal setting for those who want supreme sparkle in a refined yet eye-catching package. Recreate this celebrity-approved wedding set with our Blake Lively-inspired oval engagement ring today!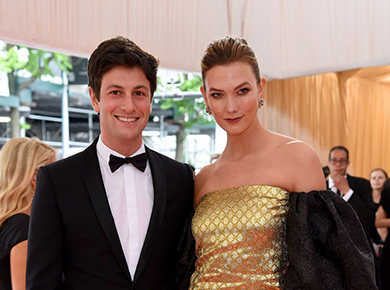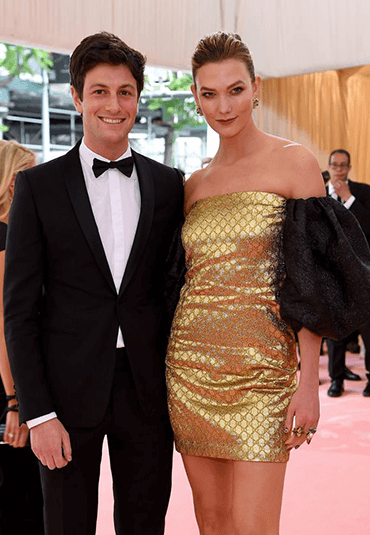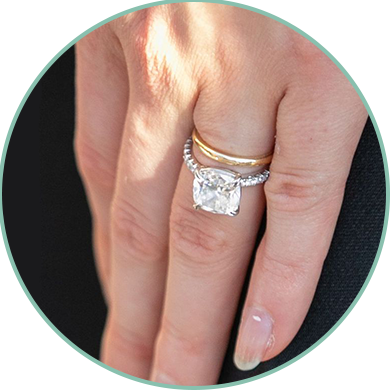 Karlie Kloss
As a world-renowned supermodel, Karlie Kloss is used to making heads turn. It's no surprise that her cushion diamond engagement ring has the same effect! Crafted in a timeless solitaire setting with a pave band, Karlie's engagement ring offers an unparalleled sparkle by letting the diamond be the main attraction. The design is timeless and sophisticated, while the shape exudes glamor and romance. Defined by their gently curved edges, cushion diamonds combine the softness of round diamonds with the modernity of princess diamonds. Treat your bride to an engagement ring approved by the fashion elite by choosing our Karlie Kloss-inspired design.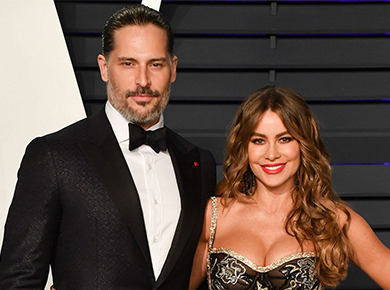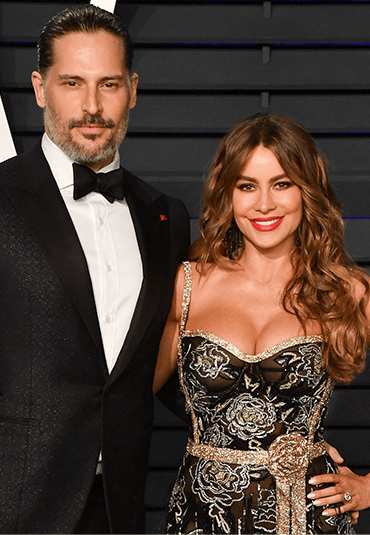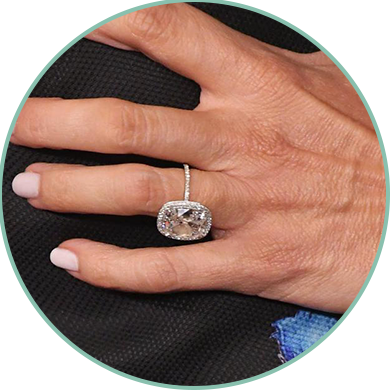 Sofia Vergara
An icon of all things feminine and glamorous, Sofia Vergara is the prime candidate for a cushion diamond engagement ring. This gorgeous shape emulates the star's alluring style with its unmatched sparkle and gently curved edges. Always a fan of show stopping designs, Sofia was treated to a cushion diamond with additional brilliance via a halo and pave band. This lavish design is perfect for bold, charismatic brides who adore flaunting their femininity. It's a symbol of sophistication and luxury with its all-over scintillation and captivating shape. Make your love feel red carpet-worthy every day with a cushion diamond engagement ring inspired by Sofia Vergara!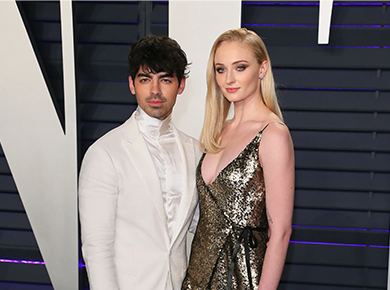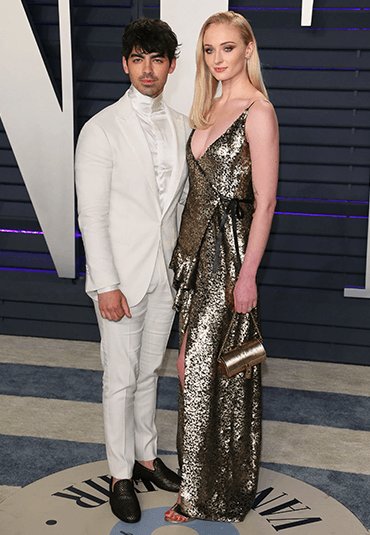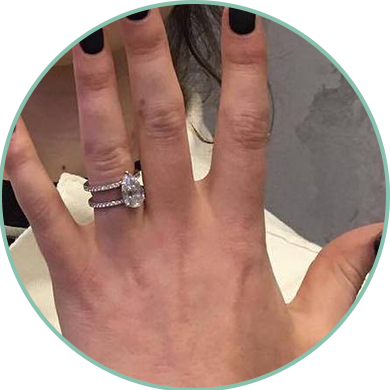 Sophie Turner
She became famous for playing a princess. Now Sophie Turner is the lucky owner of a stunning pear diamond engagement ring that's fit for a queen. This regal shape is guaranteed to make heads turn with its striking combination of curves and edges. Set as a solitaire, Sophie's ring makes the inimitable beauty of the pear shaped diamond the centerpiece of the design. A gleaming pave band makes the ring even more captivating. Perfect for fashion-forward brides craving a distinctive yet flattering shape, a solitaire pear diamond engagement ring exudes sophistication and drama. Make your bride feel like royalty with our Sophie Turner-inspired engagement ring!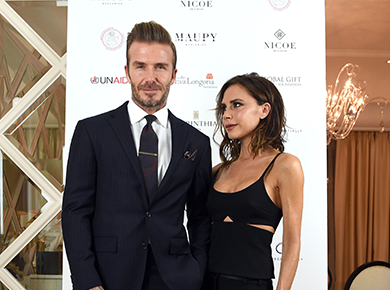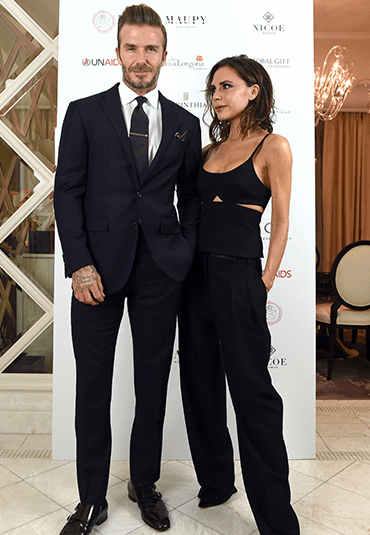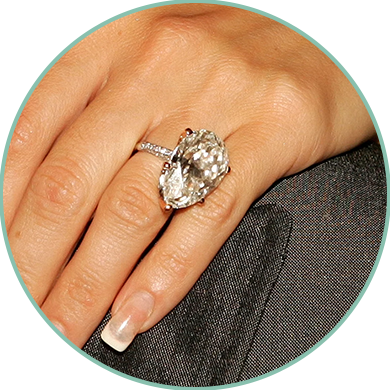 Victoria Beckham
You can always count on Victoria Beckham for sophisticated style inspiration. The pop star turned fashion designer is famous for her dazzling collection of engagement rings, but none are quite as striking as her 17 carat pear diamond ring. Featuring a jaw-dropping solitaire central pear diamond on a dainty pave band, Victoria proves that all you need is a spectacular shape to achieve high levels of elegance. The pear diamond delivers excellent scintillation and arresting beauty with its opposing curved and pointed ends. Choose a pear diamond engagement ring like Victoria Beckham's if your love wants a design that exudes glamor and boldness.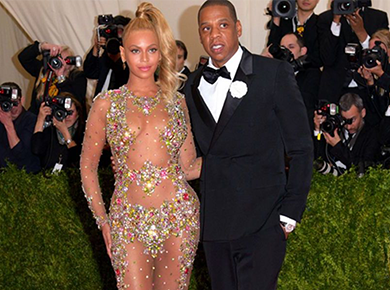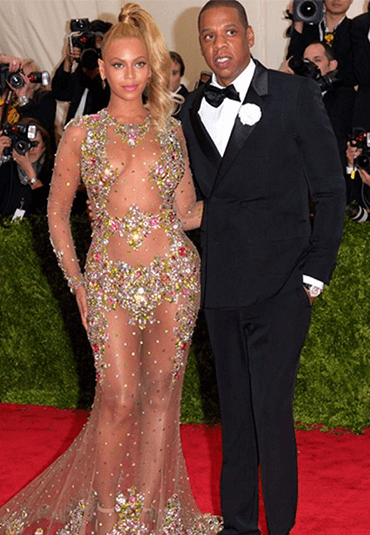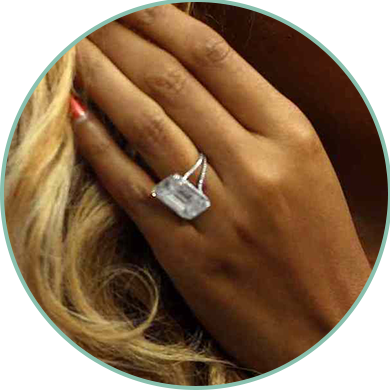 Beyonce
Beyonce's emerald diamond engagement ring is as bold and beautiful as the queen bee herself. The solitaire stunner puts an emphasis on the distinctive shimmer of the emerald cut, which creates a subdued yet striking shine rather than an all-over sparkle. A glamorous relic of the art deco era, emerald cut diamonds are famous for their mirror-like reflections due to the step-cut technique. Beyonce's ring has the best of both worlds thanks to its radiant pave band. This gorgeous design is ideal for brides that want to stand out in the most sophisticated way possible. Make your love feel like the star she is with a Beyonce-inspired emerald diamond engagement ring.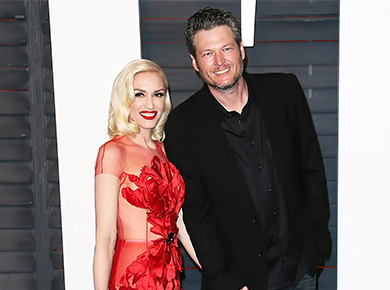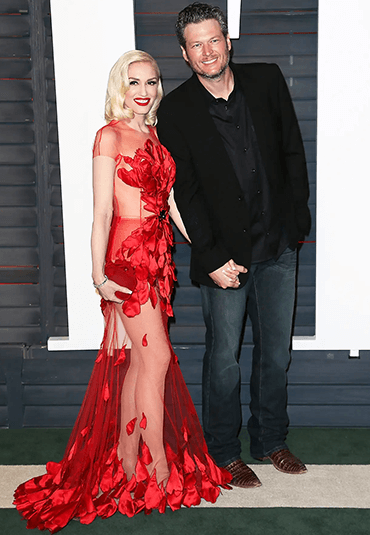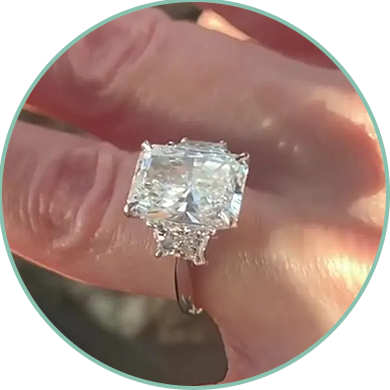 Gwen Stefani
An emerald cut diamond engagement ring is a natural choice for Gwen Stefani, a long time lover of all things Old Hollywood. Gwen's ring from Blake Shelton features a bold central emerald cut diamond with two smaller emerald side stones, resulting in a mesmerizing and sophisticated sheen. The deep step-cut facets of the diamonds create an enchanting hall of mirrors effect, creating an understated shimmer that goes so well with Gwen's signature red lips and platinum blonde locks. This art deco-inspired design is ideal for fellow vintage enthusiasts with a penchant for old school glamor. Treat your bride to timeless beauty with our Gwen Stefani-inspired emerald engagement ring.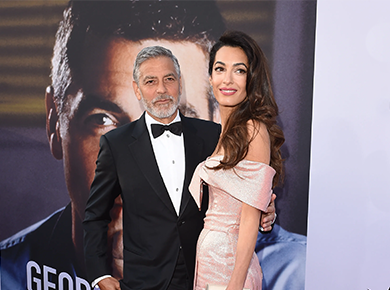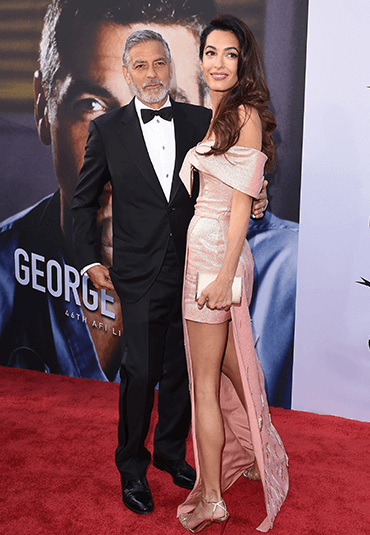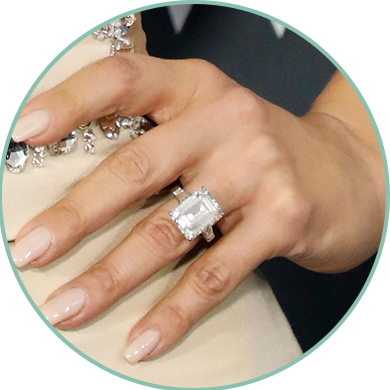 Amal Clooney
Amal Clooney is always a vision of elegance, and her emerald diamond engagement ring fits right in with her polished image. The three stone beauty features a large central emerald diamond surrounded by two smaller baguette stones. Consider it a striking celebration of step-cut diamonds and their enchanting shine. Famous for their deep step cuts that create hypnotic reflections, emerald diamonds are perfect for chic brides that prefer a subtle shimmer to the traditional glittery look that brilliant cuts bring. Showcase your love for the finer things in life with our three stone emerald diamond engagement ring inspired by Amal Clooney.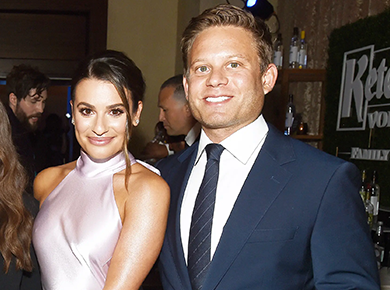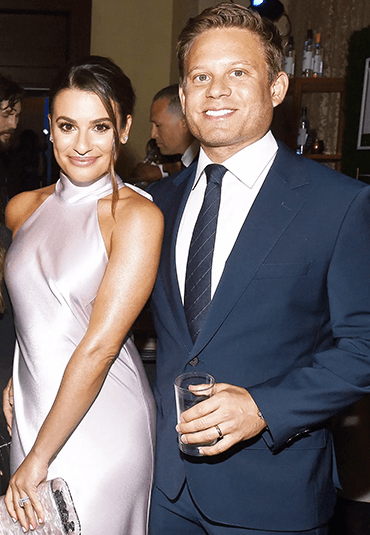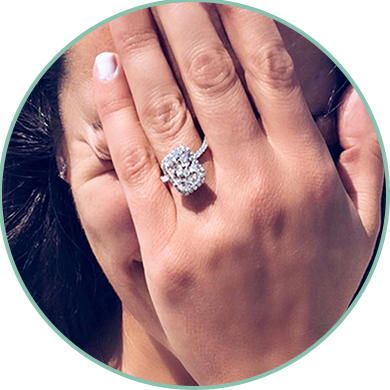 Lea Michele
As the name suggests, Lea Michele's engagement ring is overflowing with scintillation. The Glee star's radiant diamond engagement ring features a stunning rectangular radiant diamond surrounded by a sparkling halo and a matching pave band. Known for its supreme brilliance, the radiant cut has the silhouette of the emerald cut and the fire of a round cut. This sophisticated shape creates a flattering, elongated effect on the finger and radiates with luxury. A beautiful combination of old world elegance and high octane glamor, a Lea Michele-inspired radiant cut engagement ring is ideal for brides who appreciate the finer things in life.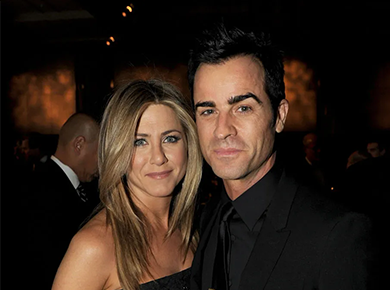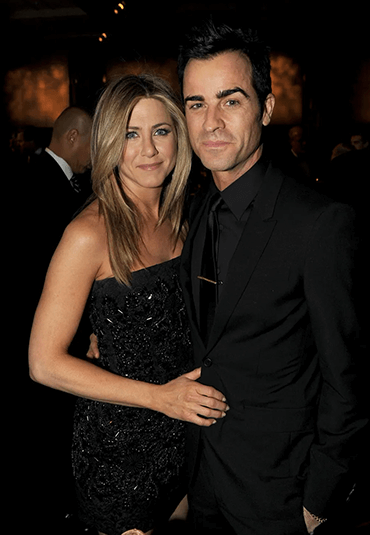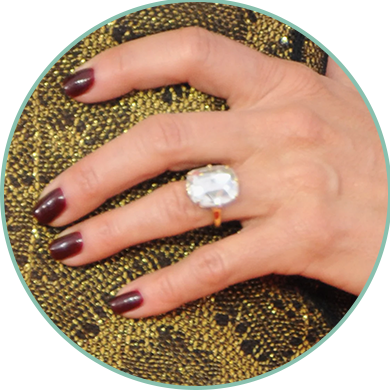 Jennifer Aniston
Jennifer Aniston's radiant diamond engagement ring shines as bright as the actress herself. Given to her by Justin Theroux, the stunning solitaire ring lets the unbeatable sparkle of the radiant diamond become the main focus of the timeless design. Jennifer's impressive diamond has ample surface area to show off the 70 facets of the radiant diamond and their magnificent fire. Known for its rectangular shape with slightly rounded edges, the radiant cut diamond offers bold brilliance. It's an excellent shape for contemporary brides seeking effortless elegance. Give your love the gift of star power with a Jennifer Aniston-inspired solitaire radiant diamond engagement ring.